Double Suction Pump Overview
Smart Turner Pumps Inc Double Suction Pumps are quality built and of rugged design to provide long, continuous, quiet trouble-free operation in a wide variety of municipal, industrial or other heavy duty applications. Designed with efficiency and NPSH in mind, all pumps have labyrinth casing wear rings as standard to guarantee low recirculation losses without compromising the premise of longevity.
Smart Turner Double Suction Pumps are produced in a wide range of sizes, comprising 14 single stage models and 2 two stage models. As many as five models share each of the shaft standards to ensure a high level of interchangeability and effective parts inventory.
Depending on the application and rating, sizes are available to 14 x 12 x 16, capacities to 8000 USGPM, heads to 750 ft., and speeds to 3600 Rpm.
CONSTRUCTION MATERIALS
All Iron
Cast Iron
Bronze Fitted
Other Castable, machineable alloys can be considered.
Smart Turner Solutions to Pumping Problems…
Whatever fluids you pump, Smart Turner has the background and technology to help you meet your needs effectively and efficiently with quality designed and built pumps. Smart Turner has established an enviable reputation for reliability while pumping chemicals, oil, beverages, slurries or sewage...almost any liquid known to man.
For over 100 years, Smart Turner has been dealing with and solving pumping problems throughout the world. This in-depth experience, coupled with modern computer technology at every level from concept to shipping, is available to you through our sales and engineering personnel, coast to coast.
At Smart Turner, pumps are our only business, designed through experience to provide consistent performance and minimum maintenance. A wide range of sizes and types allows us to match the right pump to your specific application.
For further information, or an evaluation or your pumping system requirements, contact your nearest Smart Turner sales office or distributor.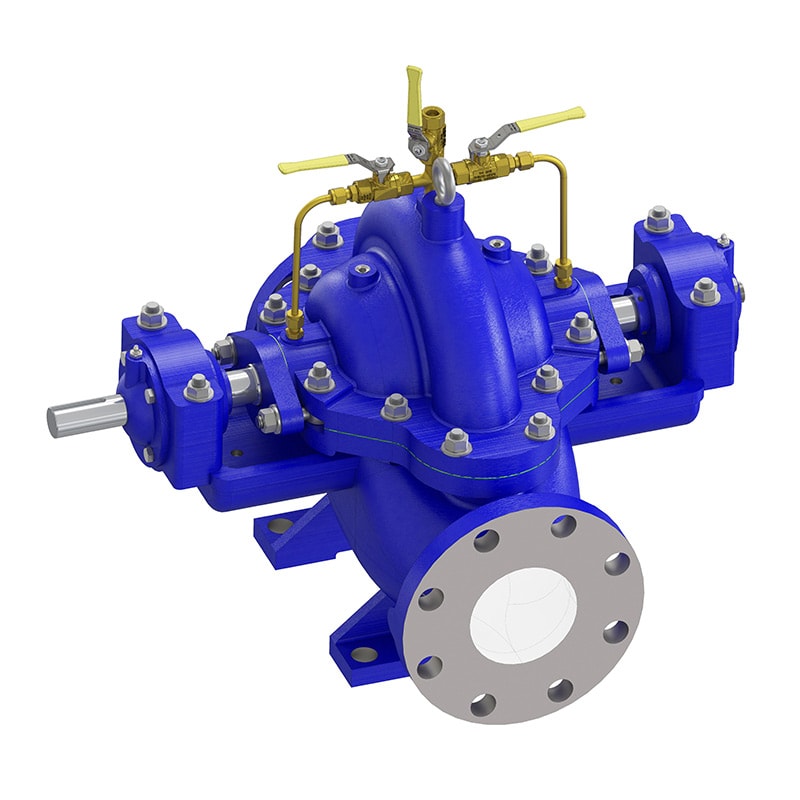 Design & Construction Features
Casing: Axially split, rugged castings with 125 psi ANSI flat faced flanged connections on the lower casing. Precision machining ensures alignment of the shaft assembly through the bearing housings and stuffing boxes. Tongue and groove machining locates the wear rings. Easy removal of the upper casing permits inspection and/or removal of the rotating element without disturbing the connecting piping.
Impeller: An enclosed, fully shrouded, one piece casting, the impeller is trimmed to meet the exact diameter requirements and is factory balanced. Impeller clearance is factory set and needs no further adjustment. The impeller is keyed to the shaft and secured axially by threaded sleeve nuts.
Casing Wear Rings: A full labyrinth design is standard to ensure minimal recirculation from the discharge to the suction side of the impeller. Tongues and grooves locate the wear rings in the casing.
Shaft: Machined and ground from high grade alloy, the shaft is designed for maximum strength and rigidity, and minimum deflection. The shaft is threaded for right and left sleeve nuts.
Sleeve Nuts: Right and left hand threaded combination shaft sleeve/impeller nuts protect the shaft from wear and corrosion for packed stuffing boxes. Sleeve nuts are self tightening and eliminate the need for external nuts, keys and sealing devices. Where mechanical seals are furnished, right and left hand impeller nuts only are used and the seal mounts direct on a stainless steel shaft.
Bearings: Grease lubricated ball or roller bearings are selected for long life and continuous service under full load conditions.
Two stage pumps have an intermediate bearing consisting of a bearing shell and distance sleeve which separates the impellers. This bearing also serves as a restriction bushing for leakage between the stages, and is lubricated by the liquid being pumped.
Bearing Housings: Bearing brackets with integral drip reservoirs for stuffing box leakage, house and protect the bearings. Replaceable cartridge housings are standard on 6 and 8 inch pumps and are located in the bearing brackets with tongues and grooves.
Stuffing Boxes: Designed for easy access and to accommodate a wide range of packing, the stuffing boxes are packed as standard and have neck rings and lantern rings with flush lines from the casing. Lantern rings are not required nor fitted for services where good suction pressure is present. Lantern rings for connection of external flush lines are available for fluids containing abrasives.
Single mechanical seals are available.
Glands: Solid, one piece glands are standard for packed stuffing boxes and mechanical seals. The glands can be provided in a variety of arrangements to suit the application.
Interchangeability: Pumps on the same frame have fully interchangeable shafts, sleeves, bearings, packing, seals, glands and hardware resulting in an efficient parts inventory at both the factory and customer.
Tests: All pumps are hydrostatically tested to 50 psi above the maximum casing design pressure.
Optional Equipment
Base: A rigid channel or fabricated base can be provided to our standard for electric motor drives. Special bases can be provided and can incorporate grout holes, drip rims and other features.
Guard: A coupling guard to our standard can be mounted on the base plate.
Flexible Couplings: For normal duty, our own pin and rubber type coupling is standard to 150 HP at 3600 Rpm, 75 HP at 1800 Rpm or motor frame 405T. However, couplings of almost any style or manufacture can be accommodated.
Motors: An electric motor or other driver can be provided.
Special Features
Vertical Units: All single stage Double Suction Pumps can be provided in a vertical mounting frame designed to fully support and protect the pump and to support and align a "C" flange mounted electric motor. Vertical mounting is useful where floor space is restricted.